Chocolat by Joanne Harris
Even before it was adapted into the Oscar-nominated film starring Juliette Binoche and Johnny Depp, Joanne Harris' New York Times bestselling novel Chocolat entranced readers with its mix of hedonism, whimsy, and, of course, chocolate.
In tiny Lansquenet, where nothing much has changed in a hundred years, beautiful newcomer Vianne Rocher and her exquisite chocolate shop arrive and instantly begin to play havoc with Lenten vows. Each box of luscious bonbons comes with a free gift: Vianne's uncanny perception of its buyer's private discontents and a clever, caring cure for them.
Is she a witch? Soon the parish no longer cares, as it abandons itself to temptation, happiness, and a dramatic face-off between Easter solemnity and the pagan gaiety of a chocolate festival. Chocolat's every page offers a description of chocolate to melt in the mouths of chocoholics, francophiles, armchair gourmets, cookbook readers, and lovers of passion everywhere. It's a must for anyone who craves an escapist read, and is a bewitching gift for any holiday.
* * *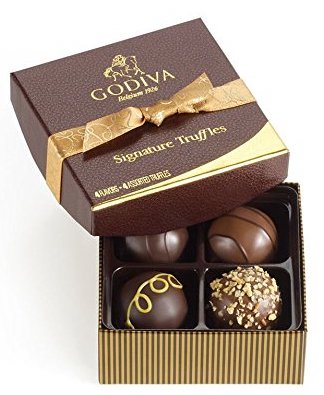 Reading this book requires proper preparation! Be sure to stock up with plenty of Chocolate Truffles, Ghirardelli Minis, or keep it simple with some M&Ms!
Do you think you could read a book like this without having a proper stash of chocolate on hand? I'm not sure if it's possible and I really don't think I'd want to try it! Whichever way you go, enjoy the story (and the chocolate if you indulge!)
Prices are subject to change without notice. For non-U.S. readers, Kindle content availability and pricing will vary.
Comments
comments